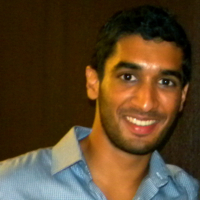 Karan Chhabra is a co-founder of Project Millennial and medical student at Robert Wood Johnson Medical School. He's pursuing a career in surgery with a research interest in surgical quality and value amidst healthcare reform.  As an undergraduate at Duke, he wrote his English Honors thesis on physician-patient communication. After graduation, he worked in Washington, DC at the Advisory Board Company on strategic research for hospital executives. When he's not learning medicine or rabblerousing, he loves escaping on outdoor adventures, eating spicy food and listening to Motown on vinyl. Follow him at @KRChhabra.
Allan Joseph is a first-year medical student at the Warren Alpert Medical School of Brown University, where he's also planning on pursuing a master's in public policy. He graduated from the University of Notre Dame in 2013, where he double-majored in economics and pre-medical studies, but really spent most of his time in a windowless newsroom at the daily student newspaper. When he's not obsessing over Notre Dame football, he loves to read policy and politics blogs, talk about the latest in technology, repetitively listen to whatever album has most recently caught his fancy, and learn to cook by trial and error. Follow him on Twitter at @allanmjoseph.
Mike Miesen is a healthcare consultant who is currently in Mbale, Uganda, leading a project to reduce maternal mortality. This is either an exciting new experience or a quarter-life crisis, depending on your point of view. Pro tip: Uganda is crazy beautiful. Follow the fun at his website or @MikeMiesen. – – – – — – – – – – – – – – – – – – – – – – – – – – – – – – – – – – – – – – – – – – – – – – – – – – – – – – – – – – – – – – – – – – –
Tom Liu is a health care researcher who earned his B.A. in Biology and Public Policy from Swarthmore College. As an undergraduate, he worked with mentors from the Zhongshan Ophthalmic Center and local medical students in Guangzhou, China to establish a screening and referral program for rural cataract patients. Since graduating, he has been working at a health care research firm in Washington, D.C. In his free time, he likes to practice Tae-Kwon Do and get tossed around in Judo. Follow him at @tliu14 or check out his personal blog, In Sight.
Adrianna McIntyre, Project Millennial co-founder, is pursuing a dual Master of Public Health/Master of Public Policy at the University of Michigan School of Public Health and Gerald R. Ford School of Public Policy. After earning her undergraduate degree in cognitive science at U-M, Adrianna facilitated clinical research regulation at the Wayne State University School of Medicine. She  spent the summer of 2013 as a fellow at the Office of the Mayor in Detroit, Michigan. During hours not spent drafting policy memos and wrestling with Stata, Adrianna claims to cook, read, and be clever on Twitter. Follow along: @onceuponA. [Adrianna is currently writing mostly at The Incidental Economist, where she is managing editor.]
Amy Myers earned her Bachelors in Health Administration and Policy from Creighton University and her Masters in Health Administration from the University of Missouri. Following graduate school she completed an administrative fellowship and now works in healthcare market analysis and strategic planning at a large, Midwestern health system. When she isn't studying market share and outmigration patterns, Amy considers herself an amateur runner (only because she's also an avid baker), spends time volunteering, and takes board games way too seriously. Follow Amy: @amyloumyers.
Ross White is a Project Manager in the Engelberg Center for Health Care Reform at The Brookings Institution where he focuses on health care system delivery and payment reforms. He worked previously as a research assistant and Public Policy Associate for The Hastings Center, a bioethics and public policy institute. While at The Hastings Center he researched a number of issues including health care reform, synthetic biology, personalized medicine, and children psychopharmacology. He has an MA in public policy from The George Washington University and a BA in political science and medical humanities from Davidson College. When not trying to keep up with health and science policy news, he enjoys exploring DC for new music, art, and food—and trying not to get giddy when he sees policy wonks and bloggers in the real world. Follow him on Twitter at @rossswhite.